The recent volatility on world stock markets once again highlights one of investment's fundamental rewards, long-term compounding of returns.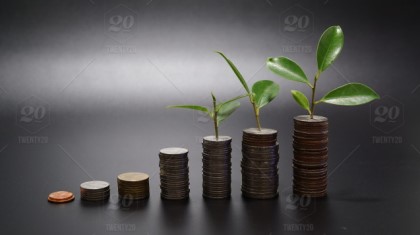 Investors who appreciate the rewards of compounding returns – as returns are earned on past returns as well as invested capital – are less likely to be distracted by day-to-day movements in share prices.
While abrupt rises and falls on markets grab the headlines and much short-term commentary, compounding silently does its work, adding to investor returns – enhanced by franked dividends on Australian shares.
ASIC's consumer website MoneySmart has a useful online tool to calculate your potential compounding returns based on an assumed earning rate and extra regular capital contributions if applicable in your case.
Using this calculator, first take the simplified example of an investor who makes an initial investment of $10,000 and adds $100 a month for, say, 20 years.
At the end of 20 years, the value of this investment would have grown to around $76,000, depending upon the actual assumptions. For the sake of this exercise, assumptions include a total return (income and capital growth) of 6 per cent a year. (Such factors as inflation are not taken into account.)
Now consider an investor who follows a similar strategy – with the same assumed earning rate and same initial investment of $10,000 – but has a much shorter investment period of 10 years instead of 20. Given certain assumptions, the value of the second investor's holding would have grown to about $34,000.
While compounding isn't exactly "magic" – as it's sometimes called – its rewards are clear for investors who save as much as possible today to give their investments plenty of time to grow.
A simple way for investors to follow a disciplined compounding strategy is to make regular salary-sacrificed contributions into their super fund, in addition to compulsory contributions. And keep making those voluntary contributions regardless of market movements.
A few pointers to make the most of compounding: Begin to invest as early as possible in your life, regularly invest extra capital in addition to your initial investment, have enough exposure to higher-earning growth assets and don't be thrown off course by a market downturn.
And obviously make sure you keep reinvesting your investment income for as long as possible.
Please contact us on 08 8232 9498 we can help you work out your combined financial goals, budget better and develop a plan to help you grow your wealth so that you can achieve your goals.
Written by Robin Bowerman, Head of Market Strategy and Communications at Vanguard.
Source : Vanguard February 2018  Reproduced with permission of Vanguard Investments Australia Ltd
Vanguard Investments Australia Ltd (ABN 72 072 881 086 / AFS Licence 227263) is the product issuer. We have not taken yours and your clients' circumstances into account when preparing this material so it may not be applicable to the particular situation you are considering. You should consider your circumstances and our Product Disclosure Statement (PDS) or Prospectus before making any investment decision. You can access our PDS or Prospectus online or by calling us. This material was prepared in good faith and we accept no liability for any errors or omissions. Past performance is not an indication of future performance. © 2018 Vanguard Investments Australia Ltd. All rights reserved.
Important: Any information provided by the author detailed above is separate and external to our business and our Licensee. Neither our business, nor our Licensee take any responsibility for any action or any service provided by the author. Any links have been provided with permission for information purposes only and will take you to external websites, which are not connected to our company in any way. Note: Our company does not endorse and is not responsible for the accuracy of the contents/information contained within the linked site(s) accessible from this page.