Not all debts are created equal, as any good financial planner will tell you. Unsecured debt such as credit card debt – as opposed to a mortgage or car loan – generally has the highest interest rates and if you don't pay the account off every month you are paying up to 25 per cent extra for anything you purchase with the card.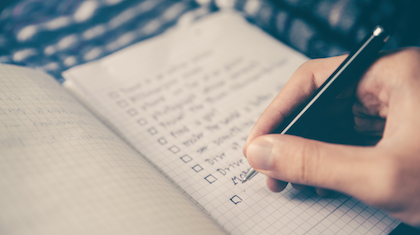 Getting personal, tailored advice is key. But here are some tips to help you along the way. And by following the first tip you will have the right information to take with you when it's time to see a financial planner.
Get clear on your spending
Use a spreadsheet or one of the many smart phone apps such as Spending, TrackMySPEND or Spendio to get a handle on your outgoings – and incomings. Most apps have a free version and a low-cost 'pro' version. By entering the information on a daily basis you will be amazed how quickly you will get clarity around your spending. After four to six weeks you should have a detailed account of your day-to-day financial situation.
Formulate a debt-repayment plan
Work out how much you can afford to pay for each debt on a regular basis without causing yourself undue hardship. For example, you can probably go without two barista-made coffees every day but still treat yourself to one or two per week. If you are not a wiz at spreadsheets this might also be a good time to see a financial planner.
Change your behaviour
As well as the above you will need to focus on changing your behaviour if your debt is becoming unmanageable. For starters, this might simply include always getting a receipt when you spend money. If you normally say: "Don't worry about the receipt," to the sales person, this would be a good place to start. And if you haven't checked your payslip for two years or don't even receive a payslip, it's time to do something about it. Once you get clear around were your money is coming from – and going to – you can work on changing your behaviour around money.
Ignore offers to increase your credit limit
When it comes to offers to increase your credit card limits, banks do not really have your personal interests at heart. The higher the credit card limit, the more likely you are to spend money that you don't have and can't afford to pay back. Chuck these letter in the bin, where they belong.
More help dealing with debt
Qualified financial planners:
Can provide a wealth of advice, including tips and options to help you manage your debt.
Support Groups:
A support group called Debtors Anonymous helps individuals address their problems with debt. The group is a non-profit and meetings are free to attend. It was founded in the US but has regular meetings in Australia.
Financial Counselling:
Several charities offer free, confidential financial advice such as Anglicare and Wesley Mission.
For more information about managing your debt contact us on 08 8232 9498.
Source: Reproduced with the permission of the Financial Planning Association of Australia's Money and Life team. This article was originally published at www.moneyandlife.com.au
Important: This provides general information and hasn't taken your circumstances into account.  It's important to consider your particular circumstances before deciding what's right for you. Although the information is from sources considered reliable, we do not guarantee that it is accurate or complete. You should not rely upon it and should seek qualified advice before making any investment decision. Except where liability under any statute cannot be excluded, we do not accept any liability (whether under contract, tort or otherwise) for any resulting loss or damage of the reader or any other person.
Any information provided by the author detailed above is separate and external to our business and our Licensee. Neither our business, nor our Licensee take any responsibility for their action or any service they provide.
Any links have been provided with permission for information purposes only and will take you to external websites, which are not connected to our company in any way. Note: Our company does not endorse and is not responsible for the accuracy of the contents/information contained within the linked site(s) accessible from this page.