Once upon a time, people went out, got a job and stayed there for the rest of their working lives. But "a job for life" is no longer an option for most working Australians.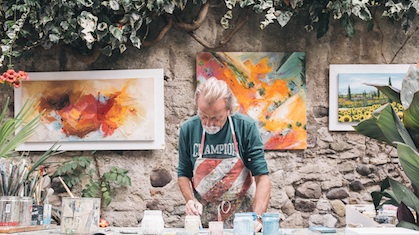 Changing careers, going out on your own and pursuing a dream to become self-employed has become the reality for many. The amount of co-working spaces that have opened up in major cities is evidence that more people are working for themselves and starting their own businesses.
The basics
When looking to start your own business you need to ask yourself several questions.
Do you intend to keep working at your current job to have an income while you set up your own company?
How much money will you need to cover the first six months? Realistically estimate what your expenses will be.
You may need to get clear on your personal finances before you even think about working for yourself.
A financial planner can help you with both planning for your business and putting your personal finances in order. As well as advise you on other financial matters such as superannuation, insurance and tax.
Write a business plan.
If you are looking for funding or investment to start your business, this is absolutely crucial. But it is also important to have a "blueprint" for your business that you can refer back to and tweak where necessary as you move forward.
Job satisfaction
After a career spent mostly in the government sector, economist Kate McNeill found herself approaching middle age realising that if she didn't change track she was destined to be stuck in work she didn't want to do for the rest of her life. After some soul-searching and research she set up her firm, "Move Through", which is a company providing integrated dispute resolution and work wellbeing services to organisations throughout Australia.
After training as an economist in the 1990s, McNeill said she'd had a very idealistic view about what she could achieve. But she found contracting on government and big business projects often felt as if it "went nowhere" and "it was just moving paper around".
"Although sometimes we were able to influence the political agenda with our work and that was very satisfying," she says.
One of the reasons McNeill moved to start her own business was that even when the work she did produced results, it would often be years before she would see them. She said she became "impatient" over time and what she is doing now is infinitely more rewarding.
Don't quit your day job (just yet)
While still working in full-time contract roles, McNeill started a smaller business three years ago. Through her experience she identified an unmet need in the market.
McNeill trained as a mediator after being thrown in the deep end while contracted to Aboriginal community housing services. Here she was asked to handle front line complaints from staff as well as from Aboriginal community members with outstanding contract disputes.
From interacting with a lot of very pissed-off people, she realised she had a knack for dealing with situations that were both analytically complex and emotionally charged.
Marketing your business
In terms of marketing your business, you may need to look at a variety of options. Depending on what business you start, promoting and marketing that business may present unique challenges.
For example, there is a lot of buzz around SEO when developing a website and web content, but McNeill said in her case that is probably of little use as most potential clients haven't got to the stage where they think they need mediation.  "They are not googling key words that lead them to me," she says.
She says one of the key messages to get across when pitching to clients is that not getting the right mediation will affect their bottom line. "It's already affecting their bottom line. All I'm doing is saying, 'this is actually a business issue'," she says.
Issues to consider for laterpreneurs regarding super:
Exit strategy
If you are looking to start a business to fund your retirement, you need to think about who you are going to sell to, what will be the value, is there a market, can you actually rely on this to fund or part-fund your retirement?
Funding
How will you fund your venture?  If you are going to withdraw funds from super or take a loan out and it does not work, what will be the impact of having less super? How you pay back the loan? Will you able to get a job to replenish these funds?
Superannuation
If you take money out to fund the venture and sell post age 65, there will be issues getting the funds back into superannuation ie meeting the works test of 40 hours in 30 consecutive days.
Age pension
The income will be assessed as income under the assets test and the loss in pension could mean your income is effectively taxed at 50 per cent.
For more information about planning for your retirement contact us on 08 8232 9498.
Source: Reproduced with the permission of the Financial Planning Association of Australia's Money and Life team. This article was originally published at www.moneyandlife.com.au
Important: This provides general information and hasn't taken your circumstances into account.  It's important to consider your particular circumstances before deciding what's right for you. Although the information is from sources considered reliable, we do not guarantee that it is accurate or complete. You should not rely upon it and should seek qualified advice before making any investment decision. Except where liability under any statute cannot be excluded, we do not accept any liability (whether under contract, tort or otherwise) for any resulting loss or damage of the reader or any other person.
Any information provided by the author detailed above is separate and external to our business and our Licensee. Neither our business, nor our Licensee take any responsibility for their action or any service they provide.
Any links have been provided with permission for information purposes only and will take you to external websites, which are not connected to our company in any way. Note: Our company does not endorse and is not responsible for the accuracy of the contents/information contained within the linked site(s) accessible from this page.