They say that travel is the only thing you can buy that actually makes you richer — but it may not feel like it when you're drawing up your holiday budget.
So if you mean to travel extensively, but aren't sure if you can afford it, rest assured — it doesn't have to send you bankrupt. Here's how to enjoy the best the world has to offer at a leisurely pace.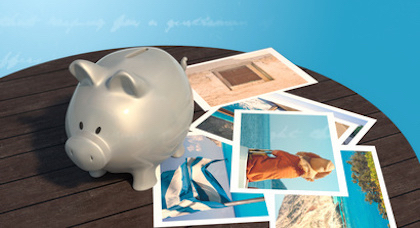 Choose your destination
The first thing to do is decide on a realistic budget and a time frame for your travel. You might love the idea of visiting Paris, for example, but if you only have a thousand dollars, it won't last you for the three months' holiday you've planned.
When it comes to living costs, not all destinations are created equal. What you'll have to fork out for accommodation, food and travel in countries in North America or Western Europe will be well above what you can expect to pay in parts of Asia or South America.
Book in advance
The biggest expense of your trip is likely to be your flight — which is why it makes sense to reserve seats as early as possible. Generally speaking, the further out you book tickets the cheaper your flight will be.
Plus, in most continents there are budget airlines with rates far lower than the major airlines. While there are no frills on-flight, and you have to pay for extras like luggage and meals, these low-cost options can be a real bargain, especially for short journeys.
Travel slowly
The further you go, the more money you'll have to spend. It costs more for you to travel from place to place than to stay put — as the bus, train and taxi fares really start to add up.
So if you want to keep your expenses to a minimum, choose a few places and spend a longer amount of time each. Because you'll get to know a place and its people better, you'll be glad you did.
Eat in
Do you normally eat breakfast in a restaurant? If the answer is no, then there's no reason why you should be doing it while you're traveling. Instead, book a place with a kitchen where you can cook your own food — and buy some basic ingredients from the supermarket.
If you do want to go out for a special meal, then compare prices before you pick a restaurant. Chances are, the one with the view of the harbour has much higher prices than another restaurant around the corner. And keep eating out as a special occasion, rather than a habit.
Stay in private rooms
Your accommodation options vary from a bunk in a shared dorm to a penthouse suite at the Ritz. That's why it's important to think carefully about your budget before you book.
A great way to save money without scrimping on quality is to rent a private room through a website such as AirBnB. Not only is this likely to be cheaper than a hotel, but you get to choose between a room — where you meet and live with locals — or a whole apartment with access to amenities like a kitchen and laundry. A win either way!